入场券
2017 Gala Banquet & Awards Ceremony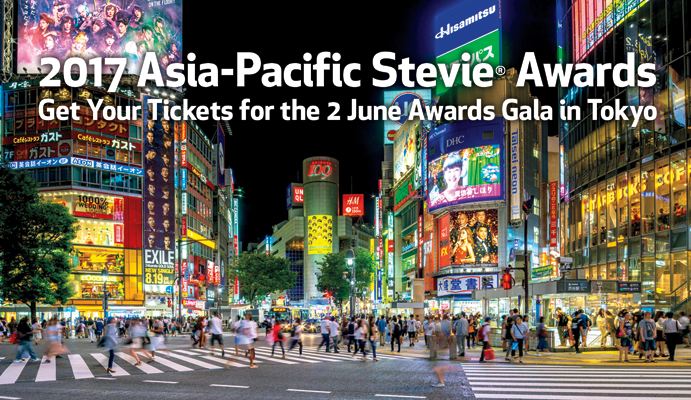 Friday, 2 June
Hilton Hotel
Kikuyo/Kikuen/Kiku Foyer Rooms
6-6-2 Nishi-Shinjuku
Shinjuku-ku, Tokyo 160-0023, Japan
 
♦ Purchase Tickets Online
Tickets are U.S. $475 each, or U.S. $4,650 for a table for 10 people.  Prices will rise on 18 May to U.S. $525 per or U.S. $5,150 for a table for 10, so order your tickets early!  Questions about ordering tickets? Contact us.  Note that 29 May is the last day tickets will be sold.
♦ Reserve a Sponsored Table Online
Sponsored Table for 10 people: U.S. $7,200.  Sponsored table includes 10 tickets, corporate branding of your table, corporate branding in the presentations, your logo featured in the backdrop for all red-carpet photographs and video interviews, and a full-page ad in the awards banquet program (total distribution of 15,000+).  Deadline for ordering sponsored table is 17 May.
♦ Make Hotel Room Reservations Online
The discounted room block at the Hilton Hotel Tokyo, setting of the 2 June awards banquet, has expired.  Rooms may still be reserved at the market rate.
♦ Place Your Full-Page Ad in the Official Awards Banquet Program Book
Total distribution for your ad will be 15,000 (in print and online) over the next year. The deadline to reserve your ad's place is 17 May.
♦ Distribute Literature About Your Company at the Awards Banquet (PDF).  The deadline to reserve this opportunity is 17 May.
Schedule
6:00 pm / 18:00: 6:00 pm: Cocktails & Networking
7:00 pm / 19:00: Dinner
7:40 pm / 19:40: Awards Presentations

Dress Is Business Attire

Come join many of the world's leading professionals on this historic occasion as we celebrate the presentation of the 4th annual Asia-Pacific Stevie Awards.  Network with peers from across the region and receive the recognition that you deserve.  Gold Stevie Award trophies and Silver and Bronze Medals will be conferred.
 

No refunds will be made or cancellations accepted for ticket orders after Friday, 26 May.