The Stevie® Award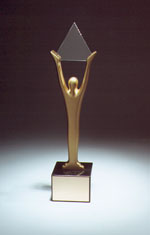 The Stevie Award trophy has become one of the world's most coveted prizes, and is the world's leading award for achievement in business.
The Stevie Award is manufactured by the same company that makes the Oscar and other leading trophies.
The name Stevie is taken from the name Stephen, which is derived from the Greek for "crowned."
The Grand Stevie is approximately 16 inches tall, and is hand-cast and finished in 24-karat gold.
The crystal pyramid held aloft by Stevie represents the hierarchy of human needs, a system often represented as a pyramid that was developed in the 1960s by psychologist Abraham Maslow, who observed that after their basic needs are met, human beings seek the esteem of their peers.